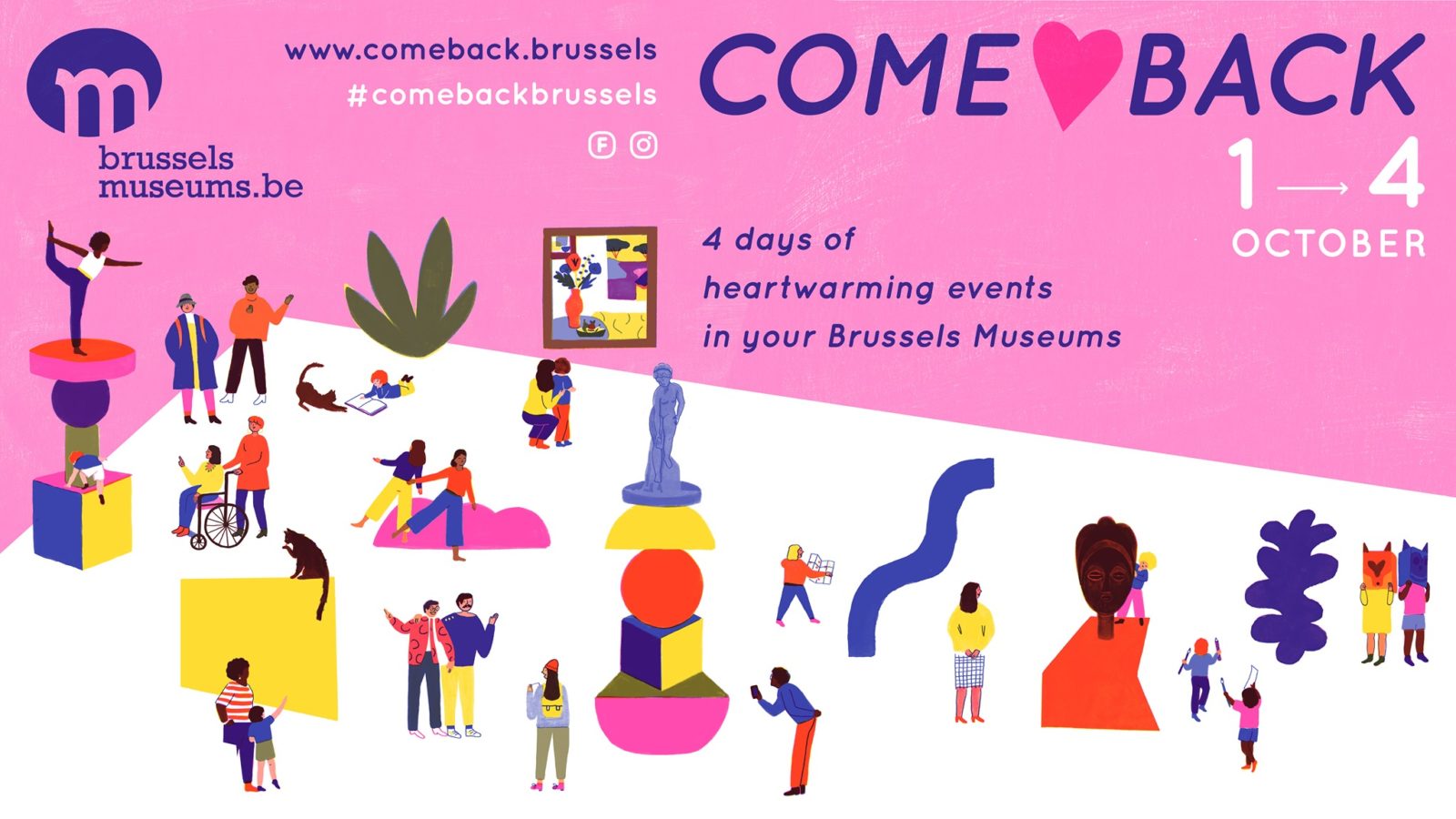 Come ♡ Back
4 days of heartwarming events in your Brussels Museums
❥ [FR] – Haut les cœurs ! Les musées de Bruxelles font leur grand comeback avec un long week-end d'évènements inédits qui vont booster votre moral. Du jeudi 1er au dimanche 4 octobre, artistes et organisations culturelles s'invitent dans de nombreux musées bruxellois pour éclipser la morosité de 2020. Au programme : performances, workshops, concerts, rencontres, nouveaux regards, animations pour enfants, balades extérieures et bien sûr, expos. Le tout 100 % sûr, cosy et surtout, po-si-tif !
Le duo d'artistes visuels  bruxellois "Floop VJ" s'associe au DJ Skuomachine pour une série de sets illustrés au coeur du MIMA. Laissez-vous enivrer par le mélange hallucinatoire de la musique et des motifs et bestioles en tout genre qui s'animeront en live parmis les oeuvres des artistes de l'exposition ZOO !
Info et réservations obligatoires via comeback.brussels
❥ [NL] – Kop op! Een volledig lang weekend maken de Brusselse musea hun grote comeback om je op te vrolijken. Van donderdag 1 tot zondag 4 oktober nemen artiesten en culturele organisaties de Brusselse musea over om even somber 2020 te vergeten. Op het programma: performances, workshops, concerten, ontmoetingen, nieuwe perspectieven, kinderactiviteiten, wandelingen in de open lucht en natuurlijk tentoonstellingen. Dit alles 100% veilig, gezellig en vooral, po-si-tief!
Het Brusselse beeldend kunstenaarsduo "Floop VJ" bundelt de krachten met DJ Skuomachine voor een reeks geïllustreerde sets in het hart van MIMA. Feest op de hallucinerende mix van muziek en voel allerlei motieven en beestjes tot leven komen tussen de kunstwerken van de ZOO-tentoonstelling!
Info en verplichte reservering via comeback.brussels
❥ [EN] – Cheer up! Brussels's museums are making their big comeback with a long weekend to lighten up all moods. From Thursday 1 to Sunday 4 October, artists and cultural organisations are taking over various Brussels' museums to dump the gloom of 2020. To be expected: performances, workshops concerts, talks, new perspectives, children's activities, outdoor walks and of course exhibitions. All 100% safe, cosy and above all, po-si-tive!
The Brussels visual artist duo "Floop VJ" joins forces with DJ Skuomachine for a series of illustrated sets at the heart of MIMA. Feast on the hallucinatory mix of music and feel all kinds of motifs and bugs come to life among the artworks of the ZOO exhibition!
Info and mandatory reservations via comeback.brussels