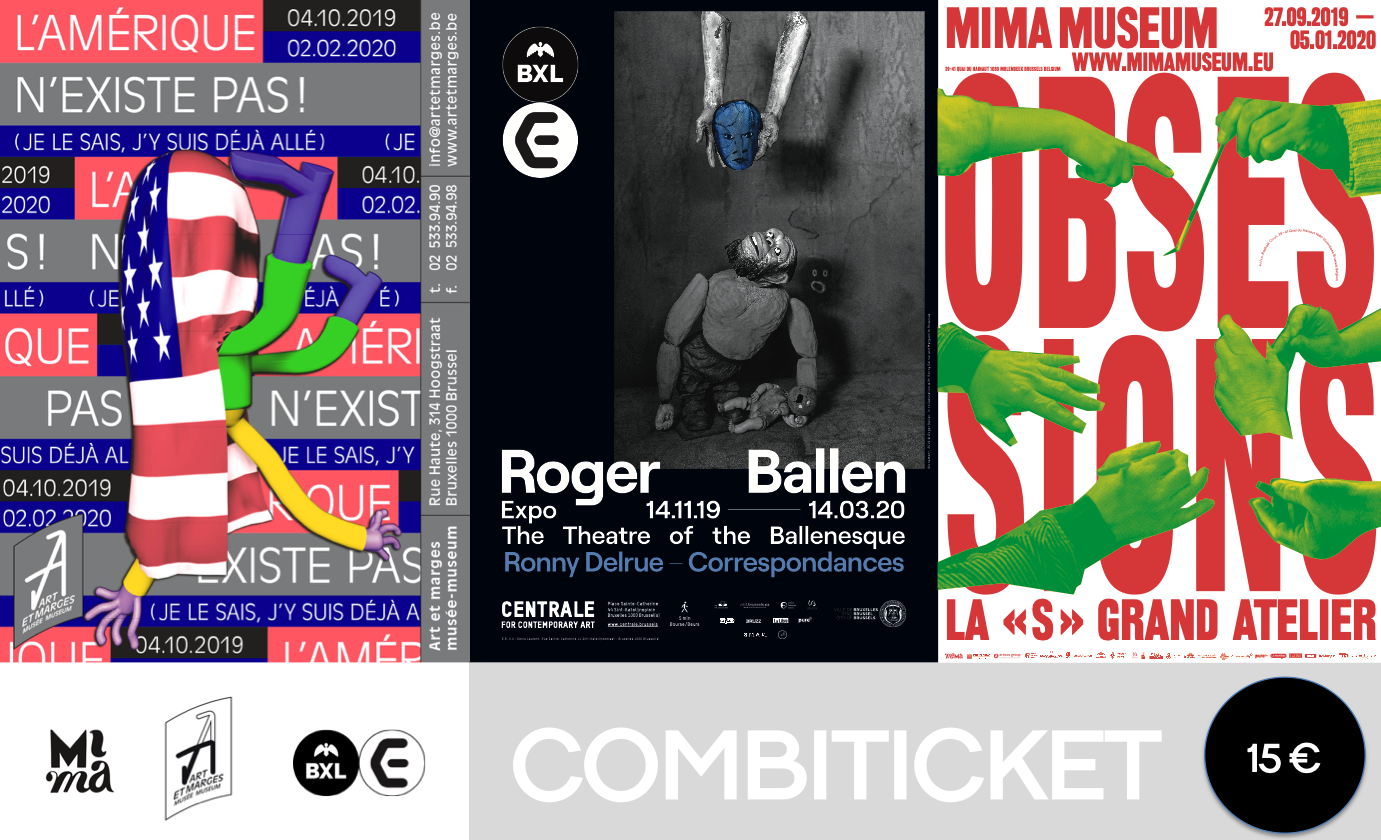 FR
Le MIMA, Art et Marges et la CENTRALE for Contemporary Art s'associent pour vous proposer un combi-ticket! Ce dernier permettra aux visiteurs individuels de visiter les trois institutions pour le tarif avantageux de 15€.
La septième exposition du MIMA pose la question de « la normalité » dans l'art ? Les artistes sont-ils maladivement obsédés par leur création ? Leurs œuvres ne le disent jamais. « Obsessions » vous plonge au cœur de l'univers de 23 artistes.
La CENTRALE for Contemporary Art propose deux expositions originales et singulières : « Roger Ballen – The Thearte of the Ballenesque » et « Correspondances », un dialogue inédit entre Romy Delrue et Roger Ballen.
Le musée Art et Marges vous emmène dans une évocation de « L'Amérique » à travers l'éblouissement d'un miroir déformant : Le rêve américain. Présentation d'une centaine d'oeuvres d'art brut, populaires et contemporaines du monde entier. En voiture pour un roadtrip intra-muros !
Les combi-tickets sont disponibles à la billetterie des trois musées jusqu'au 05/01/20 et valables jusqu'au 02/02/20 inclus (varie en fonction de la date de clôture des expositions respectives).
NL
Het MIMA, het Art et Marges Museum en de CENTRALE for Contemporary Art slaan de handen in elkaar en stellen u een combiticket voor! Met dit combiticket kan de bezoeker de drie musea voor een gunstig tarief bezoeken: € 15.
Het onderwerp van het zevende MIMA-hoofdstuk is de definitie van "normaliteit" in de kunst. Zijn de kunstenaars ziekelijk geobsedeerd door hun creaties? De werken geven geen antwoord op deze vraag. "Obsessions" neemt u mee naar het hart van het universum van 23 kunstenaars.
De CENTRALE for Contemporary Art presenteert twee nieuwe tentoonstellingen : "Roger Ballen – The Theatre of the Ballenesque" en "Correspondances", een originele dialoog tussen Ronny Delrue en Roger Ballen.
Het Art et Marges Museum stelt Amerika voor doorheen de verblinding van een vervormende spiegel: de Amerikaanse droom. Ontdek een honderdtal hedendaagse, populaire en art brutwerken, afkomstig uit heel de wereld. Stap in voor een boeiende intra muros roadtrip.
Het combiticket is verkrijgbaar aan het onthaal van de drie musea tot 05/01/20 en is geldig tot en met 02/02/20 (afhankelijk van de sluitingsdata van de verschillende tentoonstellingen).
EN
MIMA, Art et Marges Museum and CENTRALE for Contemporary Art join forces and launch a combi ticket! The combi ticket allows visitors to visit all of the 3 museums at a low price: € 15.
The subject of MIMA's 7th chapter is the definition of "normality" in art. Are the artists madly obsessed with their creations? The artworks never tell. "Obsessions" digs deep into the soul of 23 artists.
CENTRALE for Contemporary Art offers two new and unique exhibitions: "Roger Ballen – The Theatre of the Ballenesque" and "Correspondances", an original dialogue between Ronny Delrue and Roger Ballen.
The Art et Marges museum intends to present the United States of America through the glare of a distorting mirror: the American dream. Discover some one hundred works of outsider, popular and contemporary art from the world over. Get in for a roadtrip intra muros.
The combi ticket can be purchased at the ticketing desk of all three museums until 05/01/20 and can be used until 02/02/20 (depending on the end date of the different exhibitions).
Contact:
– info@mimamuseum.eu
– 0472/61.03.51