Ari Marcopoulos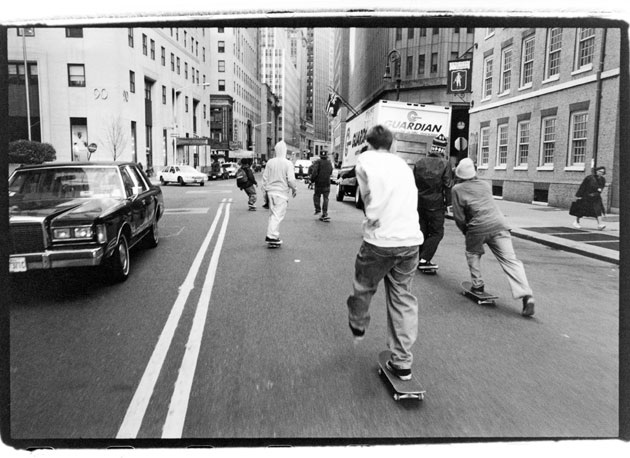 Born in 1957 in Amsterdam, Ari Marcopoulos moved to New York in 1980. A photographer and director, his work has been nourished by exploring the big apple and its culture.
He began his career working as an assistant to Andy Warhol. He also photographed Jean-Michel Basquiat on numerous occasions and worked alongside Irving Penn. These early influences can be felt in his later work, intimate and sensitive portraits of skateboard culture and the music underground.
He has also collaborated with the world of music on many occasions, he has shot the Beastie Boys and in 2013 produced the artwork for Jay Z's album Magna Carta.
Currently, his work also resides in various highly renowned permanent collections – such as the Whitney Museum of Modern Art and the San Francisco Museum of Art work.
Né en 1957 à Amsterdam, Ari Marcopoulos s'installe à New York en 1980. Photographe et réalisateur, la découverte de la ville de New York et de sa culture va nourrir son travail.
Il débute sa carrière en travaillant comme assistant auprès d'Andy Warhol. Il va aussi photographier Jean-Michel Basquiat à de très nombreuses reprises et travailler aux côtés de Irving Penn. Ces premières influences se feront sentir dans son travail plus tardif, notamment dans ses portraits intimistes et sensibles de la culture du skateboard et de la musique underground.
Ses collaborations avec le monde musical sont elles aussi nombreuses, il photographie entre autres les Beastie Boys et réalise en 2013 la photographie de l'album de Jay Z intitulé Magna Carta.
Actuellement, son travail est rentré au sein de différentes collections permanentes de renom telles que celle du Whitney Museum of Modern Art et du San Francisco Museum of Art.
Ari Marcopoulos werd in 1957 in Amsterdam geboren en verhuisde in 1980 naar New York. Als fotograaf en regisseur is zijn werk gekleurd door de cultuur van de Big Apple.
Hij begon zijn carrière als assistent van Andy Warhol. Daarnaast fotografeerde hij ook talloze keren Jean-Michel Basquiat en werkte hij nauw samen met Irving Penn. Die vroege invloeden kunnen nog steeds gevoeld worden in zijn latere werk: intieme en gevoelige portretten van de skateboardcultuur en de muziek-underground.
Hij heeft ook veel samenwerkingen met de muziekwereld op zijn palmares staan: zo heeft hij de Beastie Boys geportretteerd en was hij in 2013 verantwoordelijk voor het artwork van Jay Z's album Magna Carta.
Op dit moment is zijn werk te vinden in verschillende befaamde permanente collecties – zoals het Whitney Museum of Modern Art en het San Francisco Museum of Art Work.