HuskMitNavn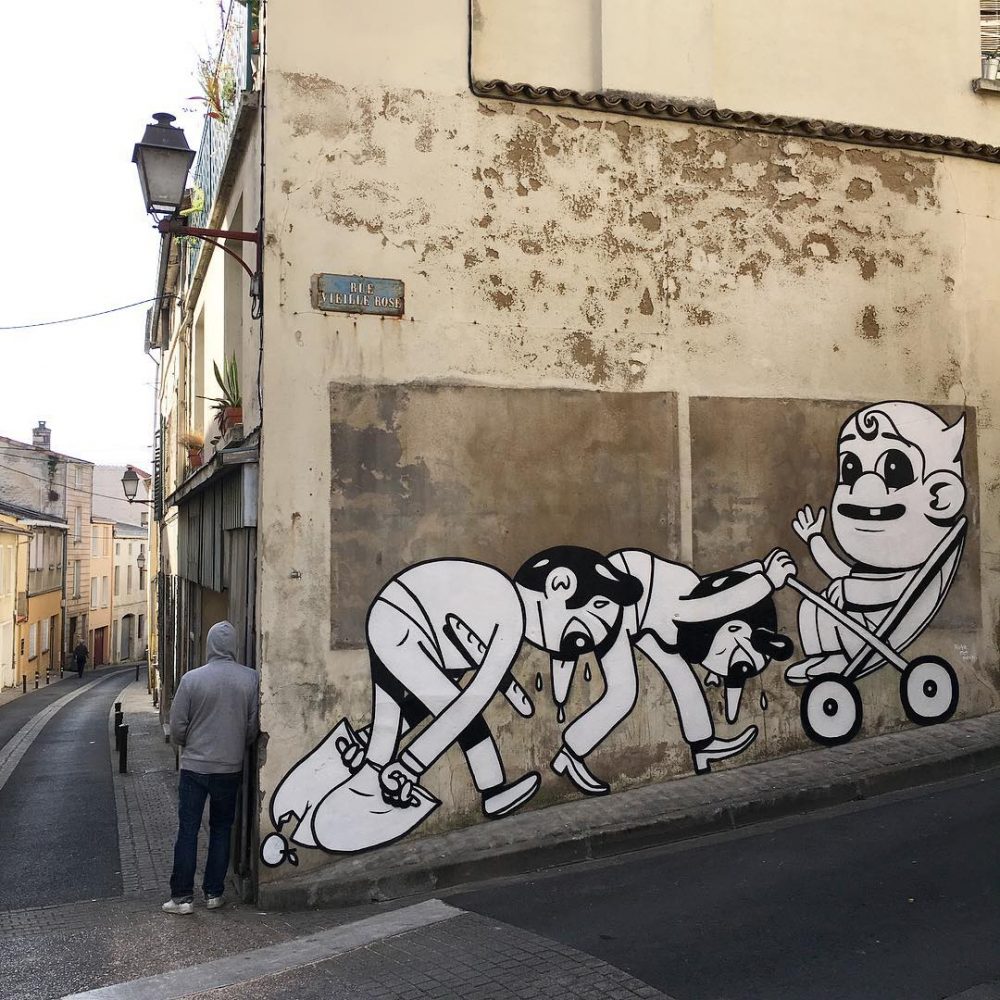 HuskMitNavn (1975), the pseudonym of an anonymous Danish artist, means – with tongue firmly in cheek –  "Remember my name". The multidisciplinary artist sketches his characteristic figures into absurd comic-book-like situations, offering a controversial view on, politics, modern life and the advertising industry.
His artistic practice varies from graffiti in public spaces and illustrations for print media, to paintings and drawings and social media, which are frequently presented by international galleries and collected by public institutions, including Statens Museum for Kunst in Copenhagen.
HuskMitNavn (1975) est le pseudo d'un artiste anonyme danois qui signifie avec humour: « Souviens-toi de mon nom ». L'artiste pluridisciplinaire dessine des personnages qu'il place dans des situations absurdes. Ces dernières rappellent à l'observateur l'humour qui se dégage aussi bien des situations quotidiennes, que de la politique ou de l'industrie publicitaire.
Sa pratique artistique varie du graffiti dans l'espace public, des illustrations pour les médias et les réseaux sociaux, à la peinture et au dessin. Ses œuvres sont présentées dans les galeries internationales et font partie des collections des grandes institutions publiques d'art, telles que le Statens Museum for Kunst de Copenhague.
HuskMitNavn (1975), het pseudoniem van een anonieme Deense artiest, betekent – met een serieuze knipoog – "Onthoud mijn naam". De multidisciplinaire kunstenaar plaatst zijn typerende figuren in absurde, stripverhaalachtige situaties, en biedt zo een controversiële kijk op de politiek, het moderne leven en de reclame-industrie.
Zijn kunstwerkwijze varieert van graffiti in openbare ruimtes en illustraties voor gedrukte media tot schilderijen, tekeningen en sociale media. Zijn werk is terug te vinden in internationale galerijen en wordt verzameld door publieke instellingen, zoals het Statens Museum for Kunst in Kopenhagen.