Poch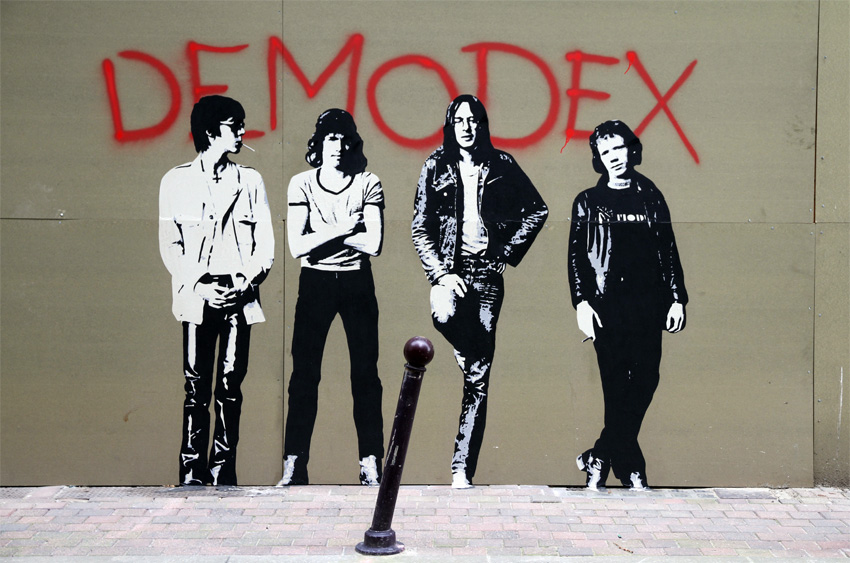 "I begin with work that was very much based on the Punk-Rock era with representation of characters painted in acrylic and natural size, then glued into the streets. I entered into a dialogue with the viewer. The anachronistic characters that I represent are the actors who contributed to the excitement of the punk rock scene in the late 70 early 80 in France and Belgium. True to the iconographic codes of my younger years, I idealize these snapshots of a bygone era when 'perfecto' rhymed with 'chaine de vélo', subutex with triplex."

Interview by Virginie Jux, Revue TenTen, July 2015.
Born in 1972 – Living and working in Rennes. From the age of 14, Patrice Poch was on the punk rock scene: the Harringtons and doc martens, distorted guitars and high energy gigs. DIY Culture and street credibility, he quickly took an interest in stencilling and made his first stencil in 1988.
In the late eighties he discovers the hip hop movement and graffiti. Self-taught, he threw himself into this new medium and at an industrial rate, producing multiple paintings on the walls and trains of the parisian suburbs. Around this time, Poch approached Europe as an international graffiti playground. He travelled widely, becoming exposed to different cultures and engaging with other artists.
In the late nineties, his work took a more minimalist direction. Now, favouring –other mediums, he produced logos in acrylic paint, collage in situ, stencils and posters. The references and quotes of this era are, however, still influenced by his formative punk-rock expensive. Around this time, beginning to find the size of the poster format limiting Poch opted to produce life size portraits, the new scale creating a different dialogue and interaction with the audience. Anachronistic faces from the eighties punk scene set against the backdrop of the street, conducive to wandering. Remaining faithful to the iconography of his youth, he glorifies snapshots taken from a distant past.