Rhys Lee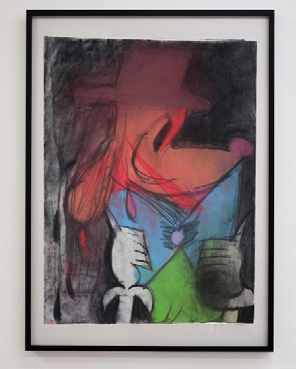 Rhys Lee lives and works in Melbourne. He is a graphic design and visual arts graduate from Brisbane's Queensland College of Art.
He creates hieratic and hybrid totemic figures on canvas or in ceramic in an expressionist style.
Lee's works are infused with the animated graphic presence of the cartoon, bordering on grotesque fantasy and the macabre. Each stroke is fast, nervous and spontaneous, qualities that reflect the urgency and exuberance so particular to graffiti, a medium he explored intensely during the 1990s.
Rhys Lee vit et travaille à Melbourne. Il est diplômé en design graphique et en arts visuels du Queensland College of Art de Brisbane.
Il crée sur toile ou en céramique des figures totémiques hiératiques et hybrides de manière expressionniste.
Les oeuvres de Lee ont cette présence graphique vivante du dessin animé, à la limite de la fantaisie grotesque et du macabre. Son trait est rapide, nerveux et spontané, des qualités qui lui viennent de l'urgence et de l'exubérance propre à la pratique du graffiti qu'il a exercé intensément durant les années 90.
Rhys Lee woont en werkt in Melbourne. Hij studeerde grafisch design en visuele kunst aan het Queensland College of Art in Brisbane.
Op linnen en in keramiek schept hij totemistische, ritueel aandoende hybridefiguren die een expressionistische uitwerking hebben.
Het werk van Lee heeft de levende grafische uitstraling van tekenfilms. Het zoekt de grenzen van de groteske fantasie en van het macabere op. Hij werkt snel, nerveus en spontaan – een signatuur die doet denken aan de urgente, uitbundige graffitistijl die hij in de jaren 90 beoefende.