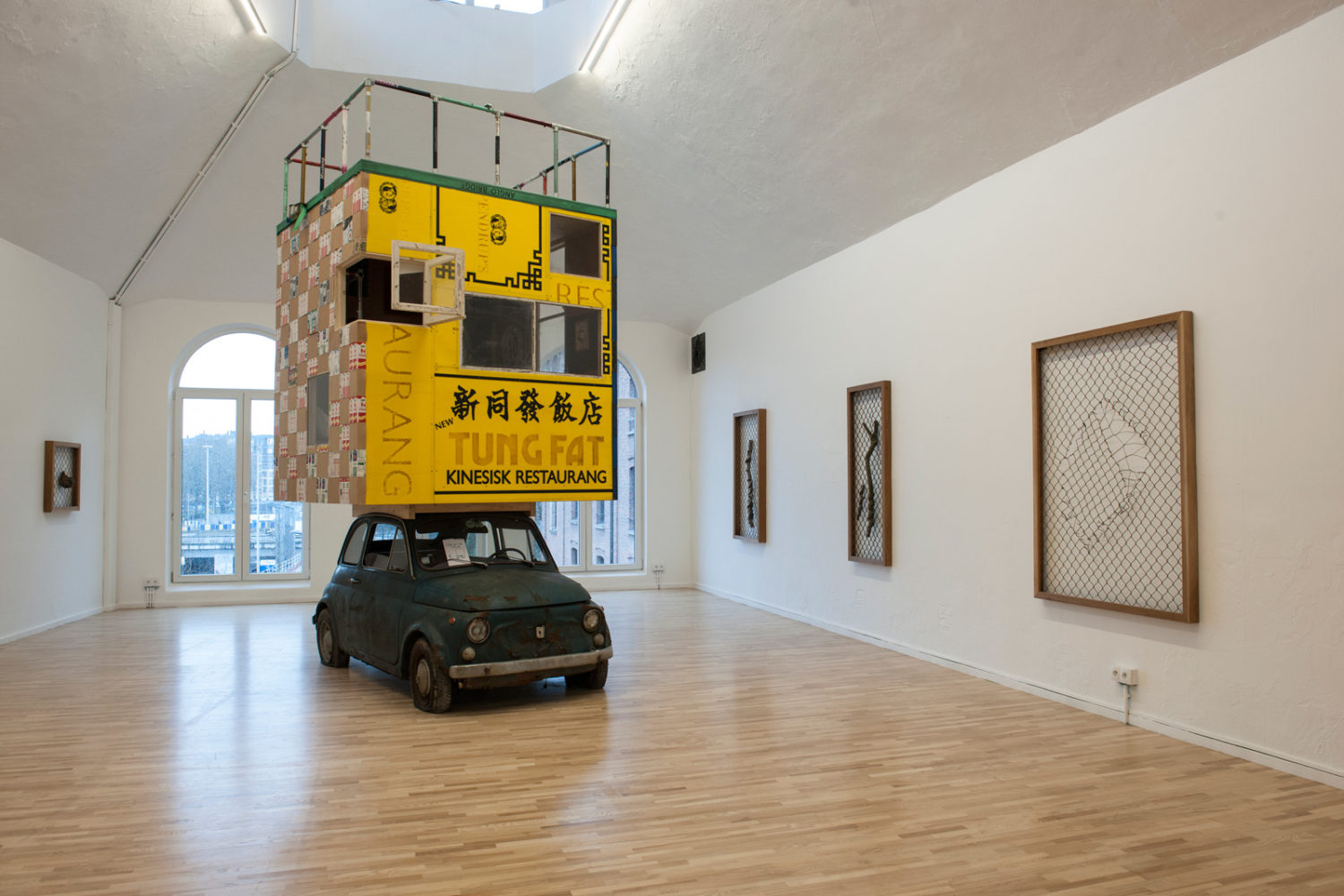 Akay & Olabo
Akay & Olabo have a history of setting up illicit installations and various
other creative vandalisms in public places. Their recent collaboration has
taken them out of those traditional urban spaces and into off-limit areas; condemned
warehouses, empty office buildings, decommissioned timber yards, and the
like.
They've gained access and had keys made to half a dozen abandoned properties
around Stockholm. They've gone into places where teargas still lingers from
police practice drills, where water leaks have transformed rooms into blue-green
mold marshes, or where they find a perfectly preserved office environment from the
eighties. Most of the time, they end up finding themselves inside an undramatic
industrial building where it simply looks like everyone left one day and forgot
to lock the door.
For the past few years, they've been able to practice their finders keepers
philosophy and combine their shared interests in long bike rides and unlawful
entry in order to produce very particular works which often go unseen by anyone
other than the copper thieves, squatters or demolition men who also frequent
these places. The work exists as documentation, but the artistry lies in the
process. Akay & Olabo have made a sport out of scavenging and a lifestyle out
of trespassing.
WONDERLAND is a playful attempt to recreate the experience Akay & Olabo
have when they make their way inside a new place, to enjoy the delights of
getting in and challenges of remaining undetected. All the materials used to
build the pieces in this museum have been relocated from derelict industrial
buildings, repurposed from discarded construction materials, or recycled from
city dumps. Many of the pieces draw attention to the aesthetics of surveillance
objects and the elegance of locking mechanisms, all of them encourage exploration
of a space.
RAE
Exhibition curated by Alice van den Abeele & Raphaël Cruyt
Akay & Olabo ont un passé de créateurs d'installations illégales et
d'actes de vandalisme artistique dans des lieux publics. Leur récent partenariat
les a fait quitter les espaces urbains communs au profit des zones interdites
: entrepôts condamnés, immeubles de bureaux abandonnés, chantiers navals
désaffectés, etc.
Ils ont réussi à s'introduire dans une douzaine de propriétés
abandonnées de la banlieue de Stockholm et se sont fait leurs propres clés des
lieux. Ils se sont rendus dans des endroits où planent encore des nappes de gaz
lacrymogènes, souvenir des exercices d'entraînement de la police, où les fuites
d'eau ont transformé les pièces en marais putrides aux nuances bleu vert, où l'on
trouve des espaces de bureaux des années quatre-vingt parfaitement préservés.
Généralement, ils réussissent à pénétrer à l'intérieur d'un bâtiment industriel
qui ne paie pas de mine, que le personnel aurait quitté la veille en oubliant
de fermer à clé en sortant.
Ces dernières années, ils pratiquent la philosophie du « qui va à la
chasse perd sa place » et profitent de leurs longues randonnées à vélo pour commettre
des délits d'effractions dans le but de créer des installations très
particulières que souvent personne ne voit, si ce n'est les voleurs de cuivre,
les squatters ou les démolisseurs. L'oeuvre existe sous forme de documentation,
mais l'art réside surtout dans la démarche.
Akay & Olabo font du recyclage un sport et de l'intrusion un mode de vie.
WONDERLAND est une tentative ludique de recréer le ressenti d'Akay &
Olabo quand ils s'infiltrent dans un nouvel endroit, la joie de le découvrir et
le défi de ne pas se faire repérer. Tous les matériaux utilisés pour les oeuvres
de l'exposition proviennent de bâtiments industriels désaffectés, de matériaux
de construction mis au rebut ou du recyclage d'ordures ménagères. De nombreuses
oeuvres soulignent l'esthétique des objets de surveillance et l'élégance des mécanismes
de verrouillage. Toutes incitent à explorer l'espace.
RAE
Exhibition curated by Alice van den Abeele & Raphaël Cruyt
Akay & Olabo staan erom bekend dat ze graag illegale installaties opzetten
en zich geregeld schuldig maken aan andere vormen van creatief vandalisme
in de openbare ruimte. Tijdens hun recente projecten lieten ze de traditionele
stedelijke ruimten achter zich en betraden ze andere, officieel ontoegankelijke
zones: leegstaande magazijnen, verlaten kantoorpanden, buiten gebruik gestelde
stapelterreinen en zo verder.
Ze verwierven zichzelf toegang tot een half dozijn
leegstaande panden in Stockholm en lieten daar zelfs sleutels voor maken. Ze
bezochten plekken waar nog restanten traangas hingen van politieoefeningen, waar
vertrekken door waterlekkages in blauwgroene schimmelmoerassen waren veranderd –
maar ze stuitten ook op een perfect bewaard gebleven kantoorruimte uit de jaren
tachtig. Meestal echter gaat het om weinig spectaculaire industriepanden die
eruit zien alsof iedereen op een dag gewoon is vertrokken en men was vergeten
de deur op slot te doen.
In de voorbije paar jaar hebben ze hun filosofie van «wie het vindt mag
het houden» in de praktijk kunnen brengen, gecombineerd met hun voorliefde voor
lange fietstochten en het zichzelf verschaffen van ongeoorloofde toegang. Dit
leverde een reeks heel bijzondere werken op die vaak door niemand worden gezien
— behalve door koperdieven, krakers en slopers. Hun werk bestaat in de vorm van
documentatie, maar de kunst zelf ligt in het proces.
Akay & Olabo hebben van scharrelen hun sport gemaakt — en verboden terrein
betreden is hun levensstijl.
WONDERLAND vormt een speelse weergave van wat Akay & Olabo beleven wanneer
ze een nieuwe locatie binnendringen. Het plezier van het binnendringen zelf
en de uitdaging om onopgemerkt te blijven, spelen daarbij een hoofdrol. Alle materialen
waarvan de objecten in dit museum zijn vervaardigd, zijn afkomstig uit
verlaten industriegebouwen, achtergelaten bouwmateriaal of afvalstortplaatsen.
Veel van deze werken brengen de esthetiek van bewakingsobjecten en de elegantie
van vergrendelmechanismen voor het voetlicht; alle objecten zetten aan tot een
verkenning van de ruimte.
RAE
Exhibition curated by Alice van den Abeele & Raphaël Cruyt